The giro has finished today. Time for some rest for me…. It is rather easy to calculate the points, thanks to a database I developed 18 years ago, but it is rather difficult to think of idiot things to write every single day for 21 days.
Actually thinking of idiot things is easy (they come pretty fast and with no rest, faster than smart things). The difficult part is finding the time to write them down.
I will not abandon you…. there are at least two more posts for the fantasy giro :
The HALL OF FAME and the SOUNDTRACK
Allow me a couple of days to recover and i will write them down
Follow our blog on the Tri-Gliceridi Team website for other great news and interesting stories
If you are a cyclist, join our team, you will have our beautiful Jersey and will have the honor to be a hero in one of our stories
The Giro Top 10:
GEOGHEGAN HART Tao
HINDLEY Jai
KELDERMAN Wilco
ALMEIDA João
BILBAO Pello
FUGLSANG Jakob
NIBALI Vincenzo
KONRAD Patrick
MASNADA Fausto
PERNSTEINER Hermann
POZZOVIVO Domenico
MAJKA Rafał
SAMITIER Sergio
KNOX James
MCNULTY Brandon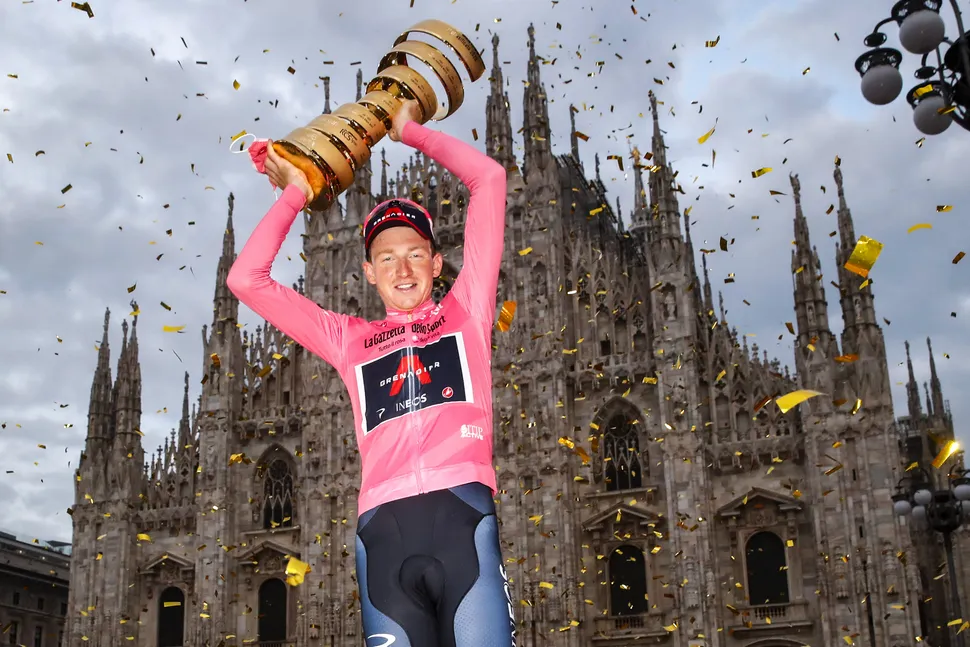 Fantasy Giro
Emanuela Gazzola's Gazzola Team had the best combination of riders in the final GC and won the bonus stage.
Here the final classification:
Davide Guarisco Pro Secco Cycling Team 830
Matteo Canali Pizzoccheromania 824
Alessandro Roggiani RENZ Pro Team 820
Handrey Correa ALTIPLANO TEAM H 811
Rene van Noort CARPE DIEM II 797
Einypw Team Pie 770
remko kampert de Derailleurkes 768
daniele Pontiggia Manzoteam 763
Alessio Ciardi Atletico Lasonil 760
Fred de Witt The White Tornadoes 759
Ken Narangoda Trisome 756
Alice Crozzoletto Argo 752
Augusto Sansoni Chianti Cycling Team 2020 746
Jeroen Vandeput Molteni 743
Lorenzo Lampiano Team name not found 735
Andrea Munisso DESFAI 724
Stefano Mandressi Succhiaruota 716
Loris Favarato Hide&Jack 707
Edward Caley Covid Cowboys 693
Luca Giannella ICNUSA VIRUS 674
Depiccoli San Biagio cycling team 672
Emanuela Gazzola Gazzola Team 667
Giacomo Salmoiraghi Scott Cycling Team 661
Marco Facciano Fat Bottomed Girls 644
Claudio Ceni Come C'enno 612
Mattia Calzolari Buo Team 601
il pirata Salumi VISMAra 588
Luca Monducci Rivoluzione d'ottobre 575
Luca Henning El Pistolero 566
Antonio Fusi Stella Rossa Firenze Ciclisti Proletari 555
claudio Mandressi Pedalemolle Team 532
Luca Barachini Pink Floyd Cycle 528
Antonio Salmoiraghi Spritz Team 522
Marco Pogliano Pian Del Lupo 518
Alberto Torriani Neuroneubriaco 515
Daniele Bossi Tutto Cuore 498
Rita Visonà Chi la dura la vince 477
Tomato SPATASC 456
Marco Algieri I corridori della Domenica 449
Andrea Quercioli Quercia is Back 267
Results
Hits: 107