The giro 2021 has ended and finally i can rest… before i do this, please allow some statistics:
45 teams have taken part of the Giro, and i am sorry i have not spent a word for all of you (too many teams)
The Giro is free, this means that you can pick the winner of any classification or sub classification fo your choice and ask them for a drink. The rules are pretty simple: if you pay to enter a game, you are entitled for a prize, if you do not pay, then you must pay drinks to everybody else…… let the chase begin
New competition for 2022: The recruiter's cup
Next year we will add a new competition: the recruiter's cup: every new team will need to declare who presented him to the Giro and the team who presents more will win the new competition….. START RECRUITING NOW (start spamming your friends)
The hall of fame
Eternal Glory
as promised to all our winners and participants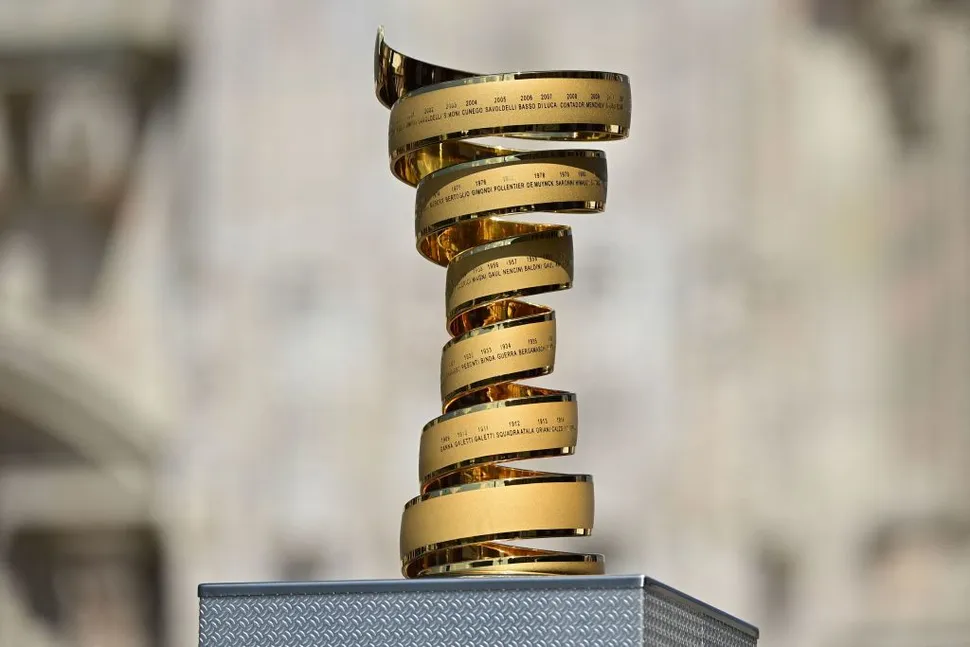 SOME STATS
General Classification
Unfortunately for Edward Caley's Saddle Sore (who won 6 stages) , you cannot win by choosing only General Classification riders but you need a mix of GC, sprinters and Time-trialist to win a Giro
Fact proved by Loris Favarato and his Cavallo Goloso team that came from a fair general classification to an exploit at the end of the game that brought him to his first victory (at his 10th attempt)
Second was Jeroen Vandeput's Molteni, the only rider in the top 5 with no stage wins. Jeroen was leading the game with just two stages to go but had to surrender to Loris in the last stage.
Third was Ken Narangoda's Trisome who won stage 2 and then remained in light for the whole game but his team only managed a third
1st Loris Favarato Cavallo goloso 978
2nd Jeroen Vandeput Molteni 961
3rd Ken Narangoda Trisome 954
Mountains Classification
After having dominated the game for 19 stages, Il pirata has been defeated by Edward Caley's Saddle Sore on the 20th stage, good consolation for il pirata's Ultimi and another podium finish for Ken Narangoda's Trisome
1st: Edward Caley Saddle Sore 500
2nd: il pirata ULTIMI 461
3rd: Ken Narangoda Trisome 453
Rookie's Contest
This year we had three rookies only that did shine in some way: pantaleo di Lorenzo's GIRO DI TAGLIA secured a 6th place which is a great result for a rookie; Sander Logtenberg's Cirque du Sprint was 16th overall which in the first part of the classification; marco esteri's LUPUPU started the giro with a team filled of sprinters and won 4 stages which is a great result for a rookie but then he lost focus and ended 29th
6th pantaleo di Lorenzo GIRO DI TAGLIA – 914
17th Sander Logtenberg Cirque du Sprint – 856
29th marco esteri LUPUPU – 759
Most stage wins:
16 different teams won stages with the best placed as follows
1st Edward Caley Saddle Sore – 6 wins – he also has 7 stages with 0 points ( you need to improve here)
2nd Marco Esteri LUPUPU – 4 wins
3rd ex-equo: daniele Pontiggia Sig. Pulito, Luca Monducci Rivoluzione d'ottobre and Augusto Sansoni Chianti Cycling Team 2021 with 3 stages each
Most Mountain Stage wins
15 different teams won mountain stages
1st Marco Algieri Sempre Mercatone Uno – 4 stages
2nd Edward Caley Saddle Sore – 3 stages
3rd ex-equo michele bellon TRATTORIA IL CURVONE 2 and il pirata ULTIMI
Best GC team
Edward Caley Saddle Sore had 1st, 2nd, 3rd, 4th, 5th, 6th, 7th, 8th, 11th and 13th in general classification. Something that brought him 122 points in the bonus stage
Black Jersey
45th Michele Bellon TRATTORIA IL CURVONE 2 – Michele is at his second Black jersey title – 51 points
44th Marco Algieri Sempre Mercatone Uno – He started winning the first stage but then he stopped there – 393 points
43rd Andrea Clementi TiCiuloLaBici – 424 points with a victory in a mountain stage
Teams with at least 1 point in each stage
Only 4 teams were able to score at least 1 point in each stage:
Loris Favarato Cavallo goloso
Ken Narangoda Trisome
Luca Monducci Rivoluzione d'ottobre
marco esteri LUPUPU
Teams where all members scored at least 1 point
6 teams scored at least 1 point per rider
Alessio Ciardi Atletico Lasonil (yes, also our former giro winner has a special note)
il pirata ULTIMI
Jeroen Vandeput Molteni
Ken Narangoda Trisome
Loris Favarato Cavallo goloso
Marco Facciano pink cashmere
Most resistant team
2 teams ended with 13 riders and only 2 retired
Daniele Bossi Tutto Cuore
michele bellon TRATTORIA IL CURVONE 2
And 2 teams ended with 12 riders/3 retired
Andrea Clementi TiCiuloLaBici
Mattia Calzolari Buo Team
Retired riders
On the other hand 11 teams had 8 riders that did not make it to Milano. This is quite a number
Antonio Fusi Stella Rossa Firenze Ciclisti Proletari
Antonio Salmoiraghi Spritz Team
Augusto Sansoni Chianti Cycling Team 2021
daniele Pontiggia Sig. Pulito
Fred de Witt The White Tornadoes
Jeroen Vandeput Molteni
Lorenzo Lampiano WE are not COE
Marco Nesi Terapia Tapioca Team
remko kampert Pedaleurs de charme
Sander Logtenberg Cirque du Sprint
Tomato Big Tomatos
Final Results
Goodbye
The Giro is over, some well deserved rest to the organizer and to all the players
Start recruiting for next year
Hits: 83