Welcome back to the 18th edition of the Fantasy Giro D'Italia – 2020 edition
As usual stage 1 takes some time to publish as the system (something I programmed 18 years ago) needs to be re-parameterized and all teams need to be uploaded. I am looking for an assistant to manage this game, anyone who wants to apply, please look at our Careers page (you will be payd with eternal glory, as usual)
Stage 1
When you win the world championship you are entitled of a rainbow jersey. The individual time trial has few occasion to be show.
Filippo Ganna, takes the multicolor seriously. He has studied his jersey for a week now and realized that there is no PINK in his world champ jersey, therefore powers his way to win the first stage of this year's giro and deserves the first Pink of the year.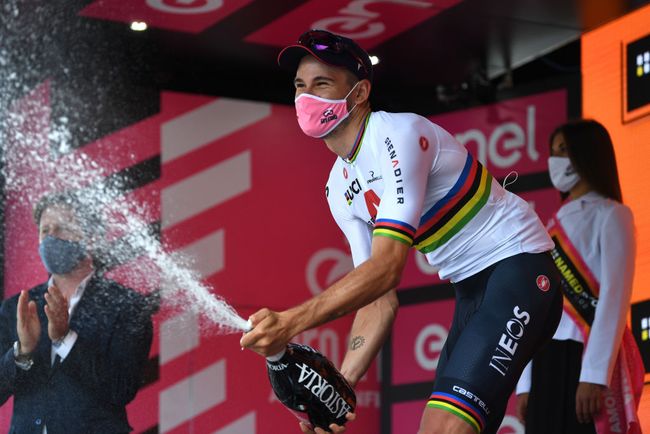 Second comes ALMEIDA João, third BJERG Mikkel and fourth THOMAS Geraint
Thomas is digging a minute on all other GC competitor, will he hold this to Milano
Miguel Angel Lopez is not a friend of Time trials and falls heavily to retirement on stage 1.
The Fantasy Giro
37 teams this year, unless I missed some, this usually happens. As mentioned above, I need an assistant.
Stage 1 was easy to predict. We know you all went to your preferred betting agency to search for quotes for stage 1…. remember that the stages are 21
Two Rookies (Einypw's Team Pie and Handrey Correa's ALTIPLANO TEAM H), two veterans (Augusto Sansoni's Chianti Cycling Team 2020, remko kampert's de Derailleurkes) and one legend (Rene van Noort's CARPE DIEM II) won the stage with 59 points each. They all had Ganna, Almeida and Thomas.
Everybody else follows with a bunch of teams with 39 or 14 points.
The Black Jersey steadily in the hands of Luca Barachini's Pink Floyd Cycle with 0 points
Results
You can find your results in this file:
The file has lots of tabs and stats

If you are a lazy reader, you can check the below table
| | | | |
| --- | --- | --- | --- |
| Rank | full_name | team_name | 1 |
| 1 | Einypw | Team Pie | 59 |
| | Augusto Sansoni | Chianti Cycling Team 2020 | 59 |
| | Handrey Correa | ALTIPLANO TEAM H | 59 |
| | Rene van Noort | CARPE DIEM II | 59 |
| | remko kampert | de Derailleurkes | 59 |
| 6 | Marco Algieri | I corridori della Domenica | 55 |
| 7 | Depiccoli | San Biagio cycling team | 43 |
| 8 | Ken Narangoda | Trisome | 40 |
| | Giacomo Salmoiraghi | Scott Cycling Team | 40 |
| 10 | Alessandro Roggiani | RENZ Pro Team | 39 |
| | Mattia Calzolari | Buo Team | 39 |
| | Daniele Bossi | Tutto Cuore | 39 |
| | Andrea Munisso | DESFAI | 39 |
| | davide guarisco | Pro Secco Cycling Team | 39 |
| | Loris Favarato | Hide&Jack | 39 |
| | Tomato | SPATASC | 39 |
| | Stefano Mandressi | Succhiaruota | 39 |
| | Alessio Ciardi | Atletico Lasonil | 39 |
| | Matteo Canali | Pizzoccheromania | 39 |
| 20 | Edward Caley | Covid Cowboys | 34 |
| | Lorenzo Lampiano | Team name not found | 34 |
| 22 | Marco Pogliano | Pian Del Lupo | 25 |
| 23 | Claudio Ceni | Come C'enno | 18 |
| 24 | Andrea Quercioli | Quercia is Back | 17 |
| 25 | Luca Giannella | ICNUSA VIRUS | 14 |
| | il pirata | Salumi VISMAra | 14 |
| | Luca Henning | El Pistolero | 14 |
| | Marco Facciano | Fat Bottomed Girls | 14 |
| | Antonio Salmoiraghi | Spritz Team | 14 |
| | Fred de Witt | The White Tornadoes | 14 |
| | Rita Visonà | La bellezza salverà il mondo | 14 |
| | Jeroen Vandeput | Molteni | 14 |
| | Luca Monducci | Rivoluzione d'ottobre | 14 |
| | claudio Mandressi | Pedalemolle Team | 14 |
| 35 | Luca Barachini | Pink Floyd Cycle | 0 |
Hits: 94