We went up a vulcano yesterday and today the stage profile was very simple: flat, up to Portella Mandrazzi, down and flat again.
The stage result
A speed test is required and a rewind to be run several times to understand who got the best from Dèmare and Sagan.
In the end Arnaud DEMARE won ahead of peter SAGAN for probably a millimetre and third was Davide BALLERINI
After an interesting stage yesterday, nothing happened today
Geraint THOMAS did not start today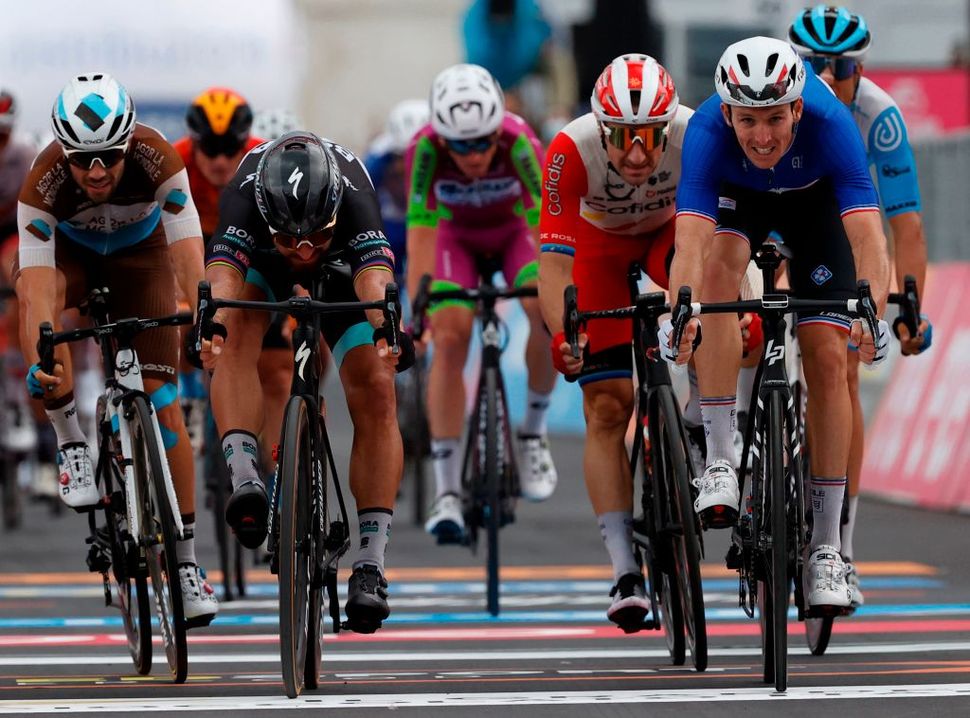 The Fantagiro
One of our Veterans Antonio Fusi with his Stella Rossa Firenze Ciclisti Proletari was complaining of not receiving the results of the giro and I realized his mail went into spam. The teams are now 40 and that is a good result, given the poor marketing I made this year.
Welcome back Antonio and Enjoy the game as usual.
The stage was won by Jeoren -Jeroen Vandeput's Molteni who remembers us of memories of a star like Eddie Merckx. Jeroen usually brings back home at least 1 stage vicotry every year and he has reached his first result this year
Three teams score 0 points. Rita Visonà's Chi la dura la vince and Emanuela Gazzola's Gazzola Team and Alberto Torriani's Neuroneubriaco. We are always pure fans of teams scoring low points. One day i will create a special classification for those who dare and it takes some courage to win a stage one day and score 0 the following day.
Geraint THOMAS did not start today and he was on most of the teams. With the abandon of LOPEZ and VLASOV we have several teams running with only 12 riders now.
The stage climbed Portella Mandrazzi but this was no luck for the MANDRESSI Bros who were not able to take advantage of their private mountain. they showed all their family on the climb and tried to stop everybody with lousy tricks but it did not work.
Results
Download the results here:
Hits: 62