First Sprinter Stage and a Belgian Sprinter takes it
Tim Merlier
The stage was supposed to be a sprinter game and indeed it was
A long breakaway that ended a few kms from arrival with a bunch sprint
Stage victory to Tim MERLIER, Second Giacomo NIZZOLO and third Elia VIVIANI.
Quite a scare to Fernando Gaviria who was closed to the barriers by his leadman.
At 39.5 km to go there was an intermediate sprint. Everybody started sprinting but they stopped at the 40km banner… Something that not even our Superhero Supergiovane could do.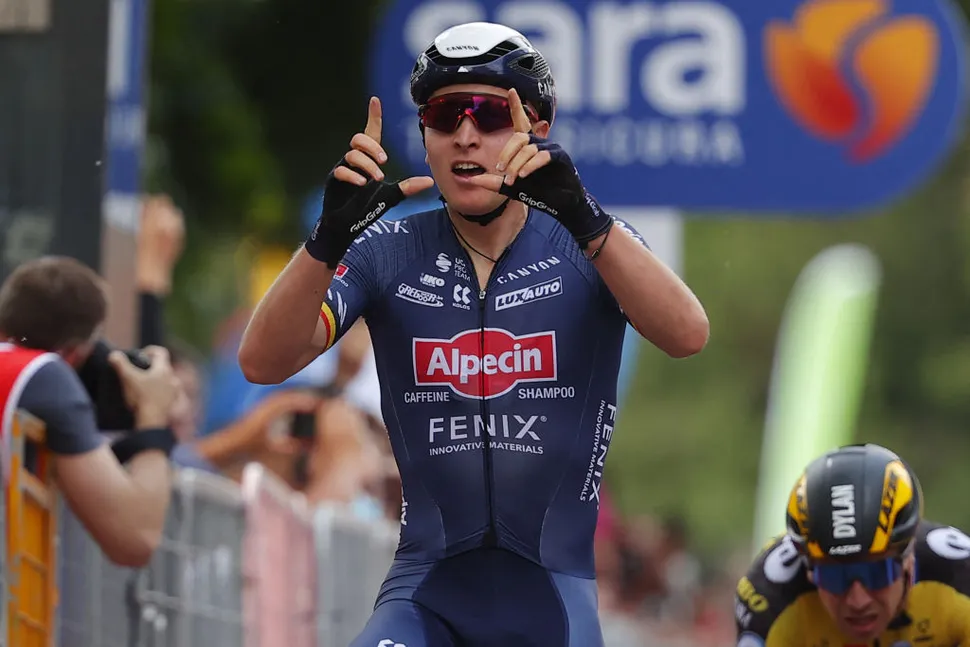 The Game
A bunch of stage winners today:
Past winners like Daniele Pontiggia's Sig. Pulito, Veterans like Augusto Sansoni's Chianti Cycling Team 2021 and Fred de Witt's The White Tornadoes, Second Year Ken Narangoda's Trisome and most notably rookie Marco Esteri's LUPUPU win the stage
Contratulations to Marco Esteri's LUPUPU for winning the second stage of his first giro… you seem to understand cycling better than football. Are you changing sport after your football team lost so terribly all competitions this year? (the guy is a Juventus fan, you can boo him in the comments as much as you like)
In GC the podium, a remarkable first place for Ken Narangoda's Trisome, followed by Augusto Sansoni's Chianti Cycling Team 2021 and on third place of two rookies : Marco Esteri's LUPUPU and Sander Logtenberg's Cirque du Sprint.
Welcome also to Sander
Mountains
We have the first mountain points:
Marco Algieri's Sempre Mercatone Uno lose the yellow Jersey but win stage and takes the leader's Jersey in the mountains
Andrea Clementi's TiCiuloLaBici is second. For all our non italian players, try to translate the team name with Google Translator….
Third is another player that has already made it to the hall of fame. Ladies and Gentlemen: The winner of the Black Jersey 2019: Michele Bellon's TRATTORIA IL CURVONE 2
The results
Hits: 37