Le velate contestazioni ricevute nel corso degli anni circa i criteri di assegnazione dei punti del Tri-Gliceride d'Oro hanno spinto il presidente a sviluppare la nuova piattaforma web che calcola in automatico i punteggi del Tri-Gliceride d'Oro
Ora tutti sono invitati a contribuire alla diffusione digitale del Verbo, inserendo in autonomia gli articoli del Tri-Gliceride d'Oro (cercare stages nell'area riservata)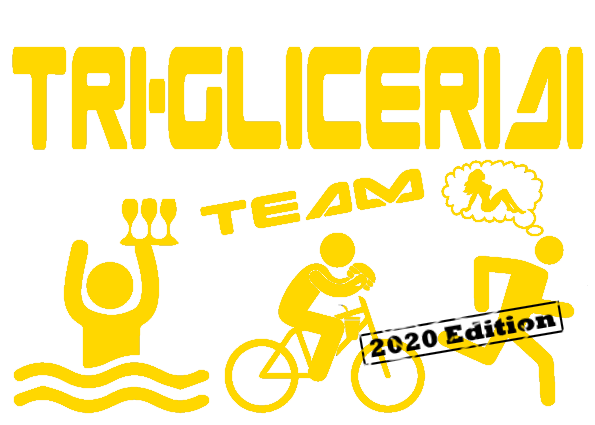 Variazione di regolamento
I Tri-Gliceridi si specializzano in sport di resistenza ed endurance e pertanto a partire dal 2020 si applicheranno i criteri di "Equivalence of Tecnology" e "Balance of Performance".
Angolo Culturale dei Tri-Gliceridi

Nelle gare di endurance di automobilismo del circuito WEC – World Endurance Championship – ad esempio la 24 ore di Lemans o la 24 ore di Daytona – vengono applicati dei criteri di penalizzazioni ed equalizzazione per bilanciare le performance tra diverse tecnologie e livellare le performance dei piloti al fine di rendere più spettacolare lo svolgimento della gara
I Tri.Gliceridi hanno in precedenza già applicato le suddette regole in almeno due occasioni, sempre con Cuu!!! protagonista:
Equivalence of Technology: penalità applicata in occasione dell'"abominio supremo" quando Cuu!!! si presentò al via con bicicletta elettrica
Balance of Performance: bonus prestazione applicato quando Cuu!!! decise di scalare lo Stelvio con figlia nel carrettino al traino
Le misure sono caratterizzate dall'eccezionalità della situazione che porta alla decisione estrema.
Esiste tuttavia una classe di penalizzazione che verrà applicata a priori ad inizio anno
Hai vinto l'anno scorso? Quest'anno sarai penalizzato
Lo dice il titolo stesso: chi ha vinto l'anno precedente accumula delle penalizzazioni all'avvio dell'anno nuovo.
Inizialmente si è pensato di aggiungere una zavorra (ma noi di zavorre ne abbiamo in abbondanza) per cui si è optato per un criterio di penalizzazione in punti secondo la seguente tabella

Risultati degli anni precedenti e tabella penalizzazione del 2020
Approfittiamo della modifica del regolamento per ricordare la classifica dei primi 3 anni del Tri-Gliceride d'oro:

E la conseguente tabella di penalizzazione del 2020: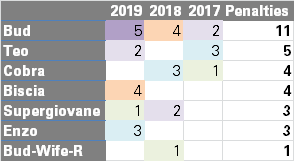 In bocca al lupo per il 2020 (e non lamentatevi più dei conteggi)
Hits: 33